Notice on CONTOUR® Family of Blood Glucose Monitoring System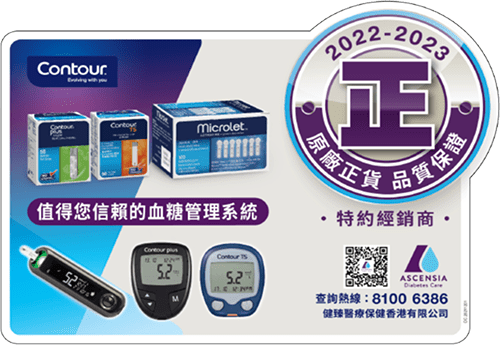 Owing to the emergence of unofficial CONTOUR® family blood glucose monitoring system (parallel imported products) in the market, we hereby make the following statement:
The official CONTOUR® family of blood glucose monitoring system have undergone stringent quality control in storage, transportation management and temperature monitoring to ensure product quality, so that the test strips quality are ensured that not to be affected by environmental factors such as temperature and humidity. The enzymatic coating maintains the best performance for reliable readings. The origin of parallel imports from other countries or regions is doubtful, the transportation or storage environment may not meet the recognized standards. Therefore, the use of these products may fail to provide a reliable blood glucose monitoring result.
Our official distributor and customer service centers in Hong Kong undertake after-sales services for the official products such as product warranty and replacement. We shall not cover any warranty or official support for parallel imported products.
All approved merchants have been affixed with CONTOUR® "Official Products" label for identification. In order to avoid any unnecessary risk, we recommend all customers to purchase CONTOUR® official products from our authorized Hong Kong distributor or merchants certified with the "Official Products" label.
For any enquiries, please call our hotline at 8100 6386 during office hours (Monday to Friday, 9am to 5pm).